Os mostramos la carátula El circo de los extraños en Blu-ray, que llegará el 23 de febrero al mercado americano, con subtítulos en castellano y sin protección regional.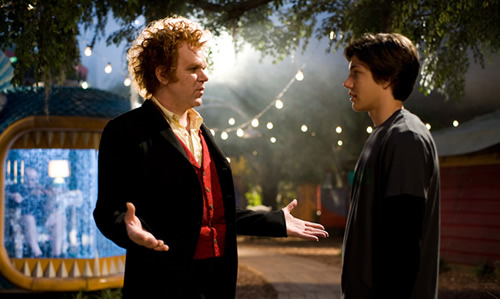 Se puede reservar en Amazon por 18 euros al cambio. Os recordamos que su estreno en cines españoles ha sido retrasado casi medio año respecto al estreno en USA. De ahí que salga antes en Blu-ray.
Extras:
· U-Control: Picture-in-Picture: Watch featurettes about the making of Cirque du Freak: The Vampire's Assistant, matching the action onscreen.
· Deleted scenes
· Guide to becoming a vampire: a behind-the-scenes look at the creation of 'Cirque du Freak: The Vampire's Assistant', including casting, filming the movie's biggest scenes and making the Cirque and its freaks come to life.
· Tour du Freak: A behind-the-scenes look at the movie sets of the Cirque.
· BD-Live: social BLU: Connect with friends on your favorite social networks to share information about your favorite movies, enjoy Blu-ray community features and more.
· BD-Live: My Scenes: Bookmark your favorite scenes from the movie then share with your BD-Live buddies.
Pocket BLU:
· Advanced Remote Control: A sleek, elegant new way to operate your Blu-ray player. Users can navigate through menus, playback and BD-Live functions with ease.
· Video Timeline: By turning the phone to landscape mode, users will bring up the video timeline, allowing them to instantly access any point in the movie.
· Mobile-To-Go: Users can unlock a selection of exclusive bonus content with their Blu-ray discs to save to their device or to stream from anywhere there's a Wi-Fi network, enabling them to enjoy exclusive content on the go, anytime, anywhere.
· Browse Titles: Users will have access to a complete list of pocket BLU-enabled titles available and coming to Blu-ray. They can view free previews and see what additional content is available to unlock on their device.
· Pop-Up Keyboard: Enter data into a Blu-ray player with this easy and intuitive keyboard that will facilitate such Blu-ray features as chatting with friends and sending messages.
Carátula El circo de los extraños Blu-ray: