Walt Disney acaba de anunciar el lanzamiento de la edición especial en Blu-ray de Alicia en el país de las maravillas, para el mercado americano, el 1 de junio. Será un set de 3 discos: un Blu-ray con la película y extras, una copia gratis de la película en DVD, y una copia digital. Todo ello al PVP aproximado de 25 euros al cambio reservando en Amazon.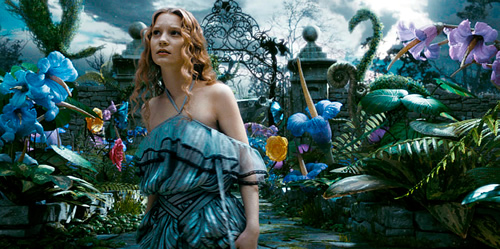 Eso sí, que nadie se haga ilusiones con el audio, porque sólo traerá DTS-HD Master Audio 5.1 en inglés, y luego una pista Dolby en latino. De momento tampoco se sabe nada de una futura edición en Blu-ray 3D, pero ya os podéis imaginar que acabará saliendo (¿finales de año quizá?). Podéis ver la carátula y los extras (sin traducir) tras el salto.
Extras:
* Finding Alice: this featurette includes Tim Burton's vision for the characters, differences from the book and Disney's version of Alice and how she evolves as both a character and actor as she takes an adventure through Wonderland.
* The Mad Hatter: audiences are provided with a deeper look into the world of the Mad Hatter. Check out Johnny Depp's early sketches, make-up, costumes and how they digitally enhanced his eyes.
* Effecting Wonderland: a behind-the-scenes piece on the different technologies used to create some of the most beloved characters in the film – Stayne, Tweedledee, Tweedledum, Bandersnatch and the Red Queen.
* The Futterwacken Dance: Futterwhat? Check out the making of the timeless dance called the Futterwacken (BD-exclusive).
* The Red Queen: the creation of the Red Queen from start to finish, including early Tim Burton sketches showcasing costume designs, make-up and digital effects (BD-exclusive).
* Time-Lapse – Sculpting the Red Queen: a short time-lapse piece showing Helena Bonham Carter as she gets her make-up done. A three-hour process can be watched in just a few short minutes (BD-exclusive).
* The White Queen: an interview with Anne Hathaway, who plays Wonderland's good queen, about her character's journey throughout the process of the film (BD-exclusive). Scoring Wonderland: composer Danny Elfman and Tim Burton discuss the music for the movie (BD-exclusive).
* Stunts of Wonderland: a featurette highlighting some of the biggest stunts in the film (BD-exclusive).
* Making the Proper Size: an inside look at the visual effects process of growing and shrinking Alice. See how filmmakers used different techniques to stay true to the storyline (BD-exclusive).
* Cakes of Wonderland: take a trip to «Cake Divas» where the creators of the EAT ME cakes provide viewers with details about how they made the smallest crumb to the largest cake in scale (BD-exclusive).
* Tea Party Props: tea cups, saucers, cakes and more. Prop master Doug Harlocker gives an overview of all the props used to bring the famous tea party scene together visually (BD-exclusive).
Carátula Alicia en el país de las maravillas Blu-ray: